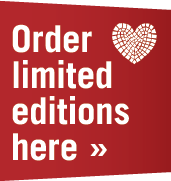 Purchase a book between 9 am Monday July 25th and 6 pm Friday July 29th and we will pick up the postage.

CALL John Giroux (970-962-4061) with the recipient's name and address before 6 pm on Friday 7/29/11 and we will have this one of a kind heirloom book about Loveland delivered to the person or persons of your choice.

Only 50 available during this promotion.
Get yours or one for a gift before they are gone.

~ ~ ~

f you want a copy of Loveland 365 - People, Places & Things That Make Us America's Sweetheart City, you must order it now! 

For only $49.95 you get a "uniquely Loveland" book and you are helping a Loveland non-profit!

This linen hard cover coffee table book (in a well made Smythe binding with a high gloss dust cover) will highlight 365 people, places or things, one for every day of the year, that make Loveland, Colorado America's Sweetheart City.

Use the form below to pre-order your copy of the book and designate a participating non-profit to benefit from the proceeds of your purchase.

All proceeds/profits from the sale of the book up to $20 will go to the participating non-profit of your choice.

Sales tax applies and postage will be added if the mail option is chosen.


Your copy from the limited print run will be available approximately June 15th.  If you want to ensure that you will get a book, you MUST place your order before May 6th when we send the book to the printer. 

We will take orders after May 6th but this will be for a limited supply of extra books. Once we run out will stop taking orders and this will become a sought-after collector's item.

All pre-orders of the book are final - fine print here.